I read fifty books this year. FIFTY! I took on this challenge knowing I could do it, but still: at the end of it, I'm surprised I was able to complete it. But I did it!
I tried keeping these summaries up throughout the year but it didn't work out as well as I had hoped. Still, here are all the books I read in order, linking to their Goodreads pages, and what I thought about them.
Wonderful favorites: anything by Jhumpa Lahiri; Bad Feminist; Notorious RBG; The Warmth of Other Suns; All the Single Ladies. There are others, as you'll see, but these were some of the stand-out stars. I had a goal to read more non-fiction and more awesome ladies and feminism work. I think I succeeded, even though I know there is so much more out there.
Next year I'll be cutting back by about half but I am so happy I was able to accomplish this goal. I'd love to know your favorite books this year. Follow me on Goodreads and Twitter and tell me what your favorite books of the year were.
It took me a long time to get into the characters of Tinkers. It was definitely engaging, but not as soon as I would have expected for such a short book.
The story weaves in and out of George Crosby's last living days. We meet his father and briefly, his grandfather, and their disabilities, both mental and physical. George, on hospice, remembers his childhood as the eldest of four and a father with epilepsy. George himself is a handyman and as he gets older, repairs clocks.
I liked the details of George's life, and his father's, but didn't feel as attached as some other fans did. But I liked the book enough. My rating: 3/5.
I learned of H.H. Holmes through a podcast I listen to and it was one of the best episodes. When I learned of this book, I added it to my Amazon Wishlist immediately. I was impressed with the story of Holmes and the detail of his many lives: his multiple lives, his aliases, his manipulations and his murders. But the way it paralleled with the 1893 Chicago World's Fair wasn't as interesting. They could've been two separate books. I would've read both. Eventually.
The story of Holmes reminds me a bit of "In Cold Blood" with the intricate details of how the murders were carried out. But Larson's specifics are really thorough — and his book is published more than a century after these events take place. Truman Capote was granted access to killers Richard Hickock and Perry Smith. He could ask them whatever questions he desired. Eric Larson's research in "The Devil in the White City" is detailed and calculated. Whatever questions he had, he was left to find his answers on his own.
It was thorough, specific, and extremely though-provoking. If only I had just Holmes's story. My rating: 3/5.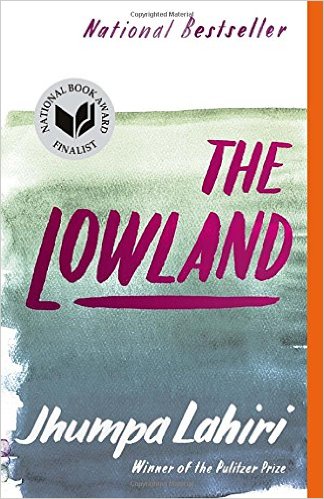 Don't read this book unless you plan to cry for two straight days after.
It was exceptionally more than the synopsis leads you to believe. Two brothers, brilliant woman, etc. etc. It was exceptionally written, as my heart hurt with every tragedy. It tends to hurt when I watch people being human (AKA making mistakes because they're human).
The Lowland starts with two brothers and while the story focuses on the growing and separation of a family over decades, I learned to like characters, even through the parts that were unlikeable. That's when I realized how much I really liked this book. I wasn't too keen on the ending, but I did have that feeling of "you really only do get one shot at this" after finishing. And then I cried for two days. My rating: 4/5.
Confession: this is my first audiobook that I've ever listened to that wasn't Harry Potter. Don't judge.
This book had a lot of moments that I had already taken judgment on when I first learned of them. Women who love Chris Brown, the show Girls, and other pop culture references. I questioned all of that when I listened to this book.
I liked this book, and when I give it 3/5 stars I mean that. There are some parts I disagree with or didn't like, and that doesn't mean I did not like this book. Gay's take on the many different facets of feminism, including broken down significantly by race, class, ethnicity, and others, were some of the very best parts. Even when I was questioning my own judgments upon listening to her take, I was engaged. She did a fantastic job being thorough and clear in her expressions of feminism.
I liked it enough. I didn't love it. I just liked it. And if we can take anything away from Gay's book, it's ok that I have a different opinion of it than some of my peers. My rating: 3/5.
I found this on accident. Howard Zinn is known as a historian and a revolutionary educator and may activist. But a playwright? I seriously had no idea.
Emma, a play about anarchist Emma Goldman, takes place at the turn of the 20th century, as she spoke up about institutional marriage (and monogamy, for that matter), feminism, and World War I. She was an open mind and free thinker and while I don't agree with everything she had an opinion on, she did many things women couldn't get away with during a time when they were simply brides.
I liked how Zinn showed Emma's drive, determination, and even downsides. And being related to him didn't hurt, either. My rating: 3/5.
Anne-Marie Slaughter's "Why Women Can't Have It All" essay showed up in The Atlantic a couple years ago, I basically nodded out loud a dozen times. But the book didn't keep up with the momentum.
The first third of the book had me rolling my eyes at the #firstworldproblems Slaughter was detailing. Maybe I was too ingrained into the world where other people had it waaaayyy worse, so this opinion is mostly based on how I felt like she shouldn't be complaining. It was a lot of "oh my husband has to be the primary caretaker! I'm working for Hillary Clinton and I'm not with my family! My life! My life!"
But the other two-thirds were actually really, really wonderful. The details Slaughter shared about equality in the workplace were awesome. She was thorough in her ideas for how employers can keep happy employees (men and women!) by being family-considerate. And while not every employee will marry/have children/have parents to care for, the idea of making this a priority makes all future employees realize that they are valued for much more than what they are on paper. Even though I don't have the same plans as the woman next to me doesn't mean I can't see the benefit of this.
I also enjoyed her moments of sharing how men can change their minds on how they actually fit into the world of women who work: staying home to care for children (if necessary); moving around to further the career of your wife; treating women co-workers as equal. I loved this, because women who work isn't just for women to experience, it's for men to experience as well. My rating: 3/5.
Alice Murno is one of the best short-story writers in this century and this was somehow my first Murno book. I'm not sorry, because there will be people who go their entire life without reading her at all. So I'm already better than them.
Murno showcases her hometown of Lake Huron in Canada and parts of those descriptions throughout the book are charming. My favorite story, "In Sight of the Lake," showed a woman with dementia who was remembering a time she was supposed to go to the doctor. It was raw and sad, and maybe because it reminded me of moments within my family, I got sad after reading it. I remember most of the stories, but this one I can't even try to forget.
Some stories are just straight honest: a new mother who is cheating on her husband; a married lawyer who had a long-time affair with the daughter of man he used to work for; a small town's dismay when a young woman runs off to get married, have kids, and return years later only to be unhappy with her life. There isn't a story in this book that someone can't relate to somehow. It was emotional but necessary. We need to recognize we have these feelings. It makes us real. My rating: 3/5.
This book got a worse rap than it probably should have. I didn't get the same negativity that some others did, but I could've missed them.
Sheryl Sandberg didn't just dole out tips on what women can do in the workplace. That was nice and helpful and maybe necessary. But she did mention the need for men to be more empathetic to their female co-workers. I think the part that I enjoyed the most was how balancing work and life is not a "woman" issue, it's a human issue. Men cannot leave women to just figure this out.
Unlike Slaughter, I actually liked Sandberg's reminiscing about her personal life in school and early work. She admits her feminism and even that she stopped fighting for women's rights because she felt like so much had already been done that she was blind to what still needed to be worked on. Her success is a given, but the admission of her failures was enlightening. My rating: 4/5.
Can you tell I've been in a full-on lady lovefest this year? Because I am. Sophia Amoruso is basically the opposite of Slaughter and Sandberg. Amoruso admits theft, dumpster diving, and some super great times hitchhiking. Oh and even hairy legs. Admirable.
I enjoyed her details of her rise to being CEO of Nasty Gal to an extent, but overall I wasn't surprised by anything she said. Most of her tips for job interviews and work ethic in general were good, but not very original. As I listened to this, I felt more like an outsider watching a high school popular clique walk by, "here's how to be one of us," they whispered. I wasn't too keen on her arrogance but did enjoy her admissions because it made her look more human than the moments she was describing her success. My rating: 2/5.
The race between the two young female journalists at the turn of the century was long, but mostly enjoyable. I admit that I knew of Bly's trip around the world but never realized she faced competition, so I didn't actually know the outcome until I finished the book.
I really don't think the story needed to be as long as it was — many things seemed repetitive or unnecessary to the story — but overall I liked it. I have a special place in my heart for pioneering female journalists, especially those who faced scrutiny and sexism long before anyone else was doing it like they were. Both women were mostly opposite and while the one thing they had one major thing in common (a trip around the world), the travels were quite different. I think I was happier with what happened to both of these women after the race. Those were actually some of the better parts of the book and I think speak more about each woman. My rating: 3/5.
This book should have been better than it was. The first chapter, on Ada Lovelace, had to be the best part of the entire book. It was mostly like classic Isaacson books: it explored the history and life of the person with the career sprinkled in. I wish the rest of the book was like this.
Isaacson admits he'd been interested in writing this book for a decade before he actually did. I just wish he would have approached it more like his other biographies and left out some very technical details. Indeed, the project showcased how many different people contributed to the digital revolution we all live in today, but I was expecting to learn of those people who helped create it. I don't think this book succeeds in that. It's probably my fault. My rating: 2/5.
Spoiler alert: Maya Angelou doesn't have a daughter. But this autobiography gives all her makeshift "daughters" — those women who come after her — insight, advice, and lessons.
This was my first book from Angelou, for no other reason than I just never stumbled upon her until now. Should I have sought her out? Maybe. But I enjoy it when we sort of find each other in the moments when it isn't forced.
I think I took most to her admissions of mistakes. It felt mostly like she was flat-out telling me "this is what happened to me, and I turned out fine. You could have it worse. Learn from your blunders and enjoy what you have. Make the best of everything." I enjoyed her stories. My rating: 3/5.
I mean… I've been hunting this one for a couple years. Sure, I've already seen the show, but the show is based off the book, it is not really an accurate visualization of the book. But I think both the show and the book do one thing very well: illustrate the details of the many problems with the criminal justice system as well as the conditions, costs, and conspiracies women (and even men) face behind bars.
OITNB tells the story of Piper Kerman's life before and during her time in prison. She admits her faults — delivering drug money for her then-girlfriend's drug job — as well as details her 15-month sentence in Danbury, CT. This is the basis for the show, of course, but there are many IRL moments that don't make it: Larry doesn't suck and Piper marries him; her parents don't hate her, she spent way more time with her ex-girlfriend during their sentence than anything portrayed on the show (albeit not in the same way Netflix has showcased). I loved this story. My rating: 4/5.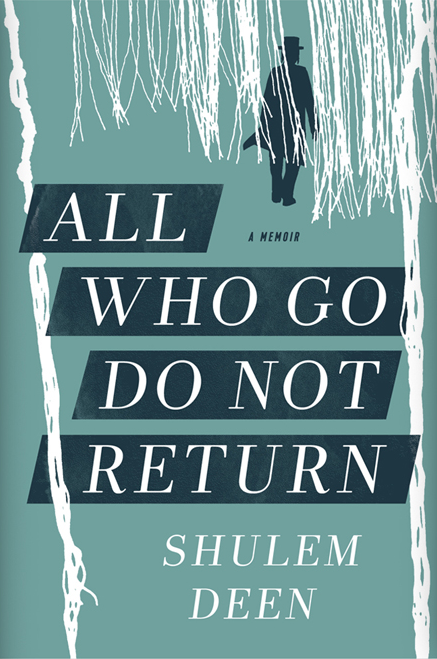 I heard Shulem Deen's story on my favorite podcast and bought the book shortly after. Deen's autobiographical story details his life as a Hasidic Jew living in New York: his entrance, his marriage, his children, and eventually, his departure.
I could not relate even a little to his story, but I was fascinated. It was a heartbreaking piece of work and I've only come to want to hear what has happened to him since. Where are his kids? Where does he work? Does he identify with any religion now? Is he in contact with anyone from his former life? I'm so, so curious. I've been thinking about this book ever since I finished. That means it was pretty good, right? I'd say while the story was amazing, it was just a tad raw and unpolished. Despite this, I really liked it. My rating: 4/5.
I have never cared for the stories of politicians, but when I heard of this book on another podcast I listen to, I was happy to grab this gem when I saw it available.
While I never did follow the blog, I think I enjoyed this book more in spite of that. RBG's amazing life, including a fantastic career with a husband that treated her like an equal, was a true treat. Her battles with sexism and her eloquent display of grace and patience in the face of sexism were fascinating. I admire her work ethic, her stance on feminism, her time on the Supreme Court and her entire life. This book was absolutely wonderful. My rating: 5/5.
Another Angelou! I didn't start her autobiography series in order, which isn't terrible, is it? I didn't think so, either.
At this point in 1957, Angelou is living in California with her teenage son. Billie Holiday comes for a visit and she's kind of really mean but Angelou doesn't seem to hate her for it. But the major parts include her meeting and kind-of-but-not-really marrying an African freedom fighter and moving to Cairo with him. Yes, she takes her son along.
While she continues to admit her own faults, as well as those of others, she continues to express her true self. Basically: she doesn't take shit from anyone, not even a "husband" who wants her to be submissive. Her details are fantastic and I enjoy her stories. My rating: 3/5.
How damn funny is this book? It's so, so funny. And the worst part is, it's funny because it's true.
I am not black, nor am I male, so the very idea of connecting with this book is slim to none. But it definitely gave me perspective on the hardships, racism, and the crazy amount of pressure black people are going through literally every. single. day. I can't apologize for all white people, I can only broaden my perspective, respect other humans, and be kind. We all deserve that. My rating: 4/5.
I wish this were as good as a.) the ratings, and b.) the reviews. But while it had some good parts, they were sporadic and patchy. Overall I hate-read most of this book.
Moran is definitely funny. She's witty and sarcastic and sometimes a great storyteller. But she is so, so off on a lot of things. "Women don't call their vaginas vaginas!" is kind of terrible. She detailed the many, many nicknames some women have given their privates and somehow that makes it seem like all women do this.
Her hypocritical stance on dancing (pole and burlesque) as well as abortion left me finishing this book because I wanted to see why Emma Watson loved it so much. It was so narrow-minded and in parts offensive to those that are mentally challenged, transgender, or any other race that isn't white. Maybe one of the worst books in recent times that I've actually finished. My rating: 1/5.
I didn't have as strong as a connection to this as some others who have rated and review it, but I did feel its effects. I've known what's it's like to not have enough money to afford food or a place to live or basic necessities. But in all those spots I've been able to count on strong family and friends to help. But I've never had to hop from job to job and get paid pennies and be stuck as a "working poor" person. Unfortunately, not much has changed since it was written almost a century ago and that its remnants are still felt. My rating: 3/5.
I love Chrissy Teigen in a way I love my best friend. I laugh at her jokes and her funny photos and nod along when she gets real about haters. The only difference between her and my best friend, though, is that Chrissy doesn't do any of this to me. In fact, it's all very one-sided. I've accepted this and I still appreciate her nonetheless.
I wasn't an original follower but when enough people were sharing her tweets and posts in my timelines, I eventually caved. So when she came out with a cookbook, I had it in my hands soon after it was released (thanks to my loving sister-in-law who also shares adoration for Chrissy). To this day, I still make biscuits and gravy her way. Her amazing recipes and quirky anecdotes are a perfect combination for this cookbook. My rating: 5/5.
I'm in the minority. I found most stories good but not exceptional. I liked most of them but I don't think of them long after reading, which is what I normally consider to be something "great." It was good enough, which is why my rating is 3/5.
I really liked this book. I have a tendency to be very black and white and I know it's not great for me. Don Tillman's lifestyle makes me feel better that I can work within the confines of our personal restrictions and how to break out of them while still holding on to some bare essentials. I like order and structure and plans — which I think Don does to a very strong degree. I was happy to be on his journey with him to finding love. It was beautiful. My rating: 4/5.
Since I adored the first book, I moved onto the second installment immediately. I liked it enough but didn't enjoy it as much as the first. Don is back with his wife, Rosie, and now, expecting their first child together. Don is working through his struggles with Rosie, his friend Gene, his new apartment in New York and that's all on top of his personal, internal struggles of living in his own mind. It was nice but not as good as the first version. My rating: 3/5.
I've never had to deal with racial inequality. But I spent a good amount of the year reading books about the experiences others that are not like me had to deal with in their lives. Citizen was one of those books and I'm grateful for it. It was a quick read — less than 200 pages — but it got the point across quite well. It wasn't my style entirely — lots of poetry — but I liked it enough. My rating: 3/5.
I've heard enough about Gloria Steinem and her work without experiencing enough of it, which is why I was really interested in reading this book this year. I enjoyed learning about her life, her start in feminism, her experiences with men and the struggles to still be a voice for women while still enjoying her life as a straight woman. Feminism is wonderful and different for everyone and I think that's what's hard to grasp sometimes. The only line is that we want and work toward equality of the sexes— there is no line that tells us we need to do anything else.
I liked experiencing her growth from the beginning: her childhood, her early activism work, and her losses. I'm glad I read this first, as I feel like it was a good introduction to Steinem's other work, even if it came way later than others. My rating: 3/5.
I have loved Sara Bareilles for many years. She got me through a breakup and many other ~feelings~ after that, so I have felt a connection to her work for some time. When I was browsing for books, I came across this one on accident — I had no idea she had written one! I downloaded it immediately and finished it in a day. I loved it.
The great thing about the audiobook is not just having the author read the book, but also sing some parts, too. It was a nice change to reading to yourself with your voice in your head and with intermissions of song. Her story was a great one to be told and I'm glad I learned more about one of my favorite artists. My rating: 4/5.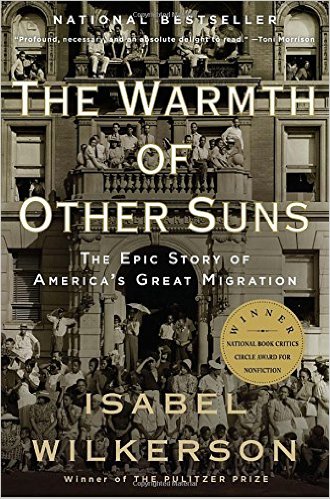 This book took forever to read. I'd say I picked up and read half a dozen different books from when I started this one to when I finished it. But that doesn't mean it wasn't a worthwhile read. It was everything and more.
I really liked learning about the great migration from the South and the many waves the migration took: during slavery and post-slavery. Unfortunately, I still see a lot of the same hostilities today, as racial bias and discrimination are still running rampant more than 150 years after slavery was abolished.
But the stories that were told in the depth and specification they were told in is absolutely stunning. I recommend this book but take it slow — there is so much to take in that it doesn't need to be taken in all at once. Take your time and pace it slowly. It's wonderful and amazing, but also real and heart-wrenching. My rating: 4/5.
A very quick read — only 50 pages. But it's not meant to be something that takes forever, it's a very simple message: this is what feminism is and why everyone should be a feminist.
Chimamanda Ngozi Adichie does a wonderful job of using humor as well as straight up logic to explain why feminism is a necessity. She uses wit and wisdom and adapts her TEDx talk on this from a few years ago. It was a breezy read that got straight to the point. I loved it. My rating: 5/5.
I was mildly obsessed with Hamilton An American Musical this year, so it shocks exactly no one that I read this book from creator Lin-Manuel Miranda. More than the lyrics, it was great to read his story about putting the musical together and what was going through his mind in getting it all out there. He knows the level  of depth his musical brought that left us wanting more and he delivered. I really liked this one. My rating: 5/5.
I was expecting this to be better than it was. I read most of this but couldn't finish it as it just got annoying and out of whack. I know many of us have a lot to say on the topic of religion — whether we are for or against it — so this book resonates with people regardless of their position. I would say I'm mostly in line with the idea of what this book is trying to explain, but the execution was really not great. I expected much better. My rating: 1/5.
My introduction to Jhumpa Lahiri came earlier this year with The Lowland and my infatuation for her writing only intensified after that, so I moved on to her Pulitzer-winning book as soon as I could. The first two stories had me crying — like full cries — which meant I couldn't put it down (I did, though, because I read it off and on for five days).
The realness of the characters — all of them — make them so relatable, even if the faults in them are all I see. The stories were moving and exceptionally realistic, so I can see why this won such a high honor. My rating: 4/5.
While I was reading Lahiri's short stories, I was listening to this on audiobook. This was actually her first book written entirely in Italian and was translated into English after the fact. I resonated with this book a lot and in more ways than I can admit.
I studied Italian in college like Lahiri and wanted to travel to Italy like Lahiri. I gave up the language after I graduated and I've never gotten the chance to visit — let alone live — like Lahiri, so maybe my love for this book also stems from jealousy on her opportunities. This, of course, just gives me more drive to do them for myself, but that doesn't change that her book is meaningful. I loved her details on her struggles with the language, how she pushed herself to keep going even when she didn't want to, and how she treats the language as if it's a person rather than a thing. Her love for the language is strong even during times of complete heartache from it. It was a wonderful book. My rating: 5/5.
I'm never going to get the chance to see this play so why not enjoy it in book form?
Rowling didn't write this book, but rather, just put the screenplay into book form, which is still totally cool. It brought back some of our favorite characters, but showed them in a different light than when we last saw them in the first Harry Potter series.
We see them as parents and sometimes not great ones. We meet their children and sometimes they aren't great, either. But we see them work on their struggles — parents and children alike — independently and together as they all face issues they really weren't sure they could tackle. There were some parts that I probably could've understood better if I were watching the play — sometimes voice affliction and tone are much different when they aren't your own voice saying the words — but all in all it was a really great story. My rating: 4/5.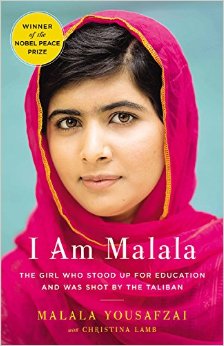 I heard about Malala the way most did: a teen girl was shot in the head for standing up for what she believed in, and she survived it. Her book details her life so far: her family, her community, her religion and the fight for survival when she did something most women do not — speak up. I loved this book. My rating: 5/5.
After "Sounds Like Me," I felt good about taking on other memoirs by female musicians. Maybe it was my lack of knowledge on the band the writer is in and her life at all, but I didn't really connect with this one as much. I didn't care for the narrative or the story at all, and felt lost most of the time through it. My rating: 2/5.
This was lovely. Most of the story was truly funny and a treat to follow. The end was eye-opening and even though it took a turn, it was still a great story to follow. I know it's heart-aching to get attached to characters that only hurt you later (that's in many different contexts), but I still appreciated the turn. I think it was a necessary ending and I'm glad I read it. My rating: 3/5.
I read a lot about the struggle of black people over the decades. What I hadn't encountered much of was privileged black people. Negroland delves into the life of Margo Jefferson and her elite upbringing — a rarity among black people during the civil rights movement and during slavery before that. It was interesting to learn about the lives of this small but important group during a time when most didn't have a voice. My rating: 3/5.
I read Mindy Kaling's first book last year, which was long overdue. This book is basically a sequel to that. I've never watched any of her shows, which probably makes me a big outlier when it comes to reading her work, but I really enjoy her style and humor, so now I actually want to watch her shows. Her stories were hilarious — like laugh out loud funny — and I loved how she makes sure the reader knows she's not too serious about herself. My rating: 4/5.
I feel like if it makes itself into a major motion picture, maybe I should attempt to tackle the book first. Which I don't do often but I try to.
I'm not always into thrillers but this one was captivating. It took me all over and it was mesmerizing. I thought about it for a couple days after reading because I thought how at the end of it all, there was a lot of girl power to go around. It was a really great ending. My rating: 4/5.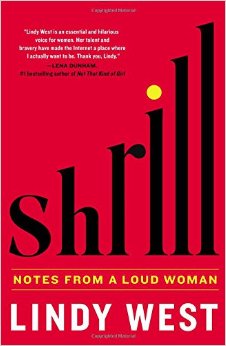 I'm not a Lindy West reader. Not because I don't like her or don't respect her, but I don't normally read her stuff. After reading Shrill, I realize that's been a grave mistake.
She is raw and real about her feminism, her weight, her lifestyle, her relationships, her writing and the gargantuan repercussions for simply living (see: trolls). As a journalist who is most definitely not as high-profile as West, I still fear backlash for stories I write, because I know it could spiral into something beyond anything I could handle. But this book gave me a sense of strength I didn't have and knew I needed. I'm so thankful to have read it this year. My rating: 4/5.
I didn't live during Martin Luther King Jr.'s civil rights movement, and school only teaches us so much. It's on us to stay educated about what happened before our time so history doesn't repeat itself when it shouldn't.
This book focused on key points in the civil rights movement that included more than just King but he was the majority of it. I appreciated learning about something that I wasn't here for that was detailed and specific beyond history textbooks. This is the first of three books and I hope to tackle the others in the coming year after discovering this one. My rating: 4/5.
I dig short stories so I took on this one with hopes for something great — it did get a lot of praise on Goodreads.
Some stories were really, really good, but I didn't think that about most of them. Maybe this was made for a different audience — most of the stories were set in the midwest and while I don't particularly identify, I felt very outside of it all. My rating: 2/5.
I know who he is, but I didn't know a lot of what he had done. Murrow was a large part of TV journalism and before that, radio journalism. One thing we don't see a lot of today is strong, overseas reporting from Europe and other continents, which was major during Murrow's time. We tend to stay in our bubble and not pay attention to what is going on in the world and when Murrow was reporting, he made you feel as if you were there watching bombs being dropped. It was solid, detailed, amazing reporting.
My tiny issues were more about how many erroneous details this book had about Murrow's supporting cast. It was hard to follow who did what and when and I tended to get lost in really minimal things. With that, my rating is: 3/5.
I heard about this book on one of my favorite podcasts, Call Your Girlfriend. I put it off for a few months but when it became available on Overdrive from the library, I took it out.
I read quite a bit of awesome lady work this year and this book is no different. It delves into marriage and relationships, which the title sort of sets up, but not just relationships with romantic partners — it also includes relationships with great friends. I loved this book not just for how women have grown to be independent in a world that is trying to stop them from being strong, but also how women are stronger together. The long history of women relationships was astounding but yet also a wonderful realization that women are naturally close to other women, and the tear-down tactics might not be new but it's natural. This was such an amazing book that I may have to tackle again because of how full of information it is. My rating: 5/5.
A song that's based on a movie that's based on a book and this is thee book. I liked that the book took on an unconventional woman of the time — she is young, like 20, and lives by herself and makes money off of scamming dudes into thinking she's easy. She's smart but vulnerable; she loves completely but it takes some time to get there. Telling the story through the eyes of the neighbor is OK, and probably helpful to have it through someone else's eyes rather than hers, but there was so much more to her than that. While the movie was nothing like the book, I can see the appeal of the movie (I watched after reading this). Really, though: the book is short but great. My rating: 4/5.
I've wanted to read this for some time. I've been struggling with learning more about the justice system because I know that the more I learn, the more frustrated I will become. But I know that I'd rather know than not know. So in I went.
When Sister Helen Prejean started as a spiritual advisor for men on death row, she learned about treatment and trials and racism and ignorance and how poorly people are treated. I'm not religious but I respect her work as religion guides her helping others that really can't be helped forever. They will die, and she will never see them again. Yet she continues on. It's admirable, it's respectful, and it's hard to witness reading her stories.
I know I'll continue to learn about the justice system, even though it pains me to. It wasn't my first introduction into prison (see: Orange Is the New Black), but it was detailed in a different way that I appreciate. My rating: 4/5.
I love biographies but sometimes books get a little too technical that I am totally lost. It's unfortunate, even when I try to stay focused and concentrate, but I can't love 'em all. The Wright Brothers is one of them. I told my husband he would love this book precisely for the problems I ran into.
I was genuinely interested in the story of the Wright brothers — especially because of how much praise it has received — but it didn't pan out the way I wanted it to. It was okay but I didn't love it. My rating: 3/5.
I've read Dickens, but I've never read this book. It's been done a hundred million times, so I admit that I've seen movie adaptations out the ying-yang, but I've never read the book. That changed this year.
One thing I think many of us do is get caught up in the messiness of Christmas without remembering the purpose of it. It's about family, it's about love, it's about kindness and it's about giving. Remember who you are and why you're here. Remember the value you get from everyone. Remember that material things will only get you so far, but love and kindness go much further. I'm glad I finally read this. My rating: 4/5.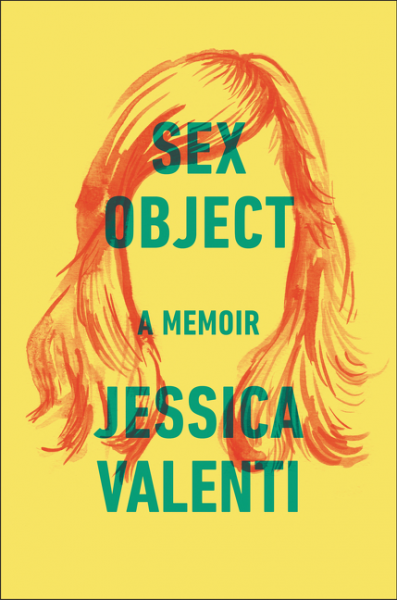 This was my first Jessica Valenti, but definitely not the last. I probably should have started in order but I don't really think it makes too much of a difference. I really liked this book.
It talks about Valenti's experience with entitled dudes believing they can get whatever they want, whenever they want. It's her stories about how she's raising a daughter that is more like her than she would like to admit, and what she's doing to make sure her daughter doesn't have the same sexist experience she had, or her mother had, or her grandmother had. She had an amazing take on showcasing that there is no one way to be a feminist: there are good ways and bad ways and some people give the label a bad name, but there are many ways to be one and we shouldn't be quick to judge how anyone lives their lives. Great work. My rating: 4/5.